This article was published at a shorter length is issue 13 (April 2012) of In the City magazine. King Lear opened at the Citizens Theatre on Friday April 20 and ran until May 12.
On first meeting Lynn Kennedy, you wouldn't guess she is an actress. Softly spoken and reticent, it is hard to imagine her dominating a stage. But Kennedy is an actress. And, apparently, a good one.
Part of the Royal Conservatoire of Scotland's class of 2011, she has already secured named roles in no less than three productions at that paragon of Glasgow's theatre-scape, the Citizens Theatre. She can also boast of being the only actor in residence there, currently holding the prestigious title of Actor Intern.
But regardless of her credentials to date – including Citz productions Hansel and Gretel, Gothic and one-woman play Limbo – the East Kilbride-born performer is soon to face an undeniable challenge for any actor. She is cast as youngest daughter Cordelia in Shakespearian tragedy King Lear.
Famously portrayed on screen by some of Britain's best young actresses, including Romola Garai and Keira Knightley, Kennedy admits her task is tricky.
"I think in years to come I'll still look back on King Lear as being such an important part of my career," she says. "I've done Shakespeare at uni, but nothing like this. I'm looking forward to it. There are so many people that have said they're going to come and see it, and already it's selling really well."
And there is no denying the cast she gets to perform with is one of which any actor, however established, would be envious.
Starring David Hayman – who began his career at the Citz in the 1970s and has since performed on screen alongside Kevin Spacey, Bruce Willis and Pierce Brosnan – as King Lear, as well as Cal Macaninch of TV's Wild at Heart and Holby Blue – and most recently the Citz's Betrayal – Lynn agrees that her present company's back catalogue is "a little bit scary."
"At the King Lear read-through I was sat at this table with all these named people thinking, 'Oh my goodness, look at all these brilliant actors and then me!" she says. "But it's nice to get that opportunity to work with these people, and they're all lovely. They don't act like divas and they don't make you feel like the least experienced person in the room at all," she adds. "They're all very supportive, so it's not too daunting."
But despite her breezy, collected attitude, one is conscious from a slight nervousness in her voice and the subtle tensening in her brow that Lynn is fully aware of the scale of this production. The second of new Artistic Director Dominic Hill's three inaugural plays – March's Betrayal being the first and a double-bill of Samuel Beckett's Krapp's Last Tale and Footfalls rounding off the season in June – King Lear is arguably the Citz's biggest production of 2012.
But it is not just Hill's reputation for which she is feeling the weight, but her own future career. After failing to secure an agent at her class's graduation showcase last year, King Lear is an opportunity to secure vital representation. And with Betrayal attracting critics from the national press, it is Lynn's best chance yet to shine.
The number of letters and e-mails she has already sent out number in their hundreds, with many agencies simply not able to take on more actors in the current financial climate. "It is hard," she says. "It's really tough to try and get somewhere.
"Leaving drama school is a tough year because it's so easy to never work, for it to never happen," she says. "I think particularly when you don't have an agent that's a quite a big worry. I was actually convinced after my second audition for the internship that I hadn't got it, and I remember walking across the bridge and thinking, 'Oh God, I don't have it. What am I going to do?" she reveals. "I was quite surprised but very happy when I found out."
In that sense, it seems taking the Actor Internship was a decidedly sensible decision; an impression that describing her time there as "almost like an extension of university" far from dilutes.
"Because I've got the label of Actor Intern people appreciate that I'm just out and still learning," Lynn says. It's quite nice in some ways for it to be acknowledged that I'm just taking my first steps in the industry, although I certainly wouldn't expect anyone to go easy on me!"
But sense aside, the end of her internship in August could easily be a major spring-board for Kennedy's career. Reluctant to tempt fate by talking about what's next, she is characteristically modest. "I think it has set me up with a good variety of experience that might help me get past some other people in the audition process," is her best brag – and even that she admits apologetically.
But judging by her own reception and the Citz' reputation – it begot stars including Celia Imrie and Gary Oldman – Lynn Kennedy's is a name that will only grow in prevalence. She could have had no surer start, and clearly has not hesitated to make the most of it.
This article was published in issue 12 (May 10 2012) of the Glasgow Journal. The 2012 local elections took place on Thursday May 3, and votes were counted on Friday May 4.
Labour has regained overall control of Glasgow City Council amid rising speculation the SNP were set to steal the party's Scottish stronghold.
After a fractious budget meeting in February which ultimately saw Labour lose its majority as a total of nine councillors transferred their allegiance to rebel outfit Glasgow First, speculation that Labour's days in power were numbered was rife.
However Labour put pay to SNP hopes of snatching control of Scotland's largest council, emerging with 44 of 79 seats available in Friday's election compared to their rivals' 27.
The battle between the two largest parties was more or less head-to-head for more than half of the count, with no more than three votes separating the two by the twelfth of 21 wards called.
It was when the result of the vote in Drumchapel and Anniesland was announced that Labour really began to make headway however, securing three councillors to the SNPs one.
Former council leader, Labour's Gordon Matheson said: "This is a stunning result for Labour in Glasgow.
"Only days ago the SNP were declaring victory before a single vote had been counted and now we have the most sensational result in the history of Glasgow City Council."
While the SNP did manage to gain an extra seven seats from the 20 they had previously held, it was not enough to take Glasgow.
In a dismal result for the Liberal Democrats their six seats were reduced to just one, with Margot Clarke for Linn ward now the only Lib Dem on the council. She joins Conservative David Meikle, who was re-elected for Pollokshields ward, as a solo party representative.
Meanwhile, the Greens held on to their five seats and Glasgow First returned one councillor – founding member Stephen Dornan – out of the 19 that stood.
With last Thursday's ballot the first since devolution that local government elections were not held on the same day as the Holyrood vote, concerns had been raised that voter turn-out would suffer.
Prior to the polls opening last week, the Journal spoke to John Curtice, professor of politics at Strathclyde University.
He hoped the independence debate in Scotland would boost turn-out by getting people talking about politics, but admitted: "The problem for a lot of people is that they're not quite sure that their local council is that important.
"The less important people think an institution is, the less likely they are to turn out and vote for it."
Turn-out in Glasgow was the lowest of all of Scotland's 32 local authorities on Thursday, at only 32.4 percent. Some individual wards experienced much lower figures however, with Anderston and City ward returning only 23.6 percent of its nearly 30,000-strong population.
Electors in Glasgow were divided on the matter. Julie Price (25) from Dennistoun said: "I don't really know much about the constituency but I've always voted in the past so I feel it's important that I use my democratic right."
Calton's Nadine Stott (24) said: "I think all politics happens at local level and with all the cuts and austerity it's really important to have an impact on what happens."
Jan McInnes (51) from the West End said she would not be voting however. She said: "I can't vote today because of time. I would have voted if I'd known you could do a postal vote."
Dumbarton's Brendan O' Sullivan (also 51) said: "I can understand why people don't vote because people have lost respect for politicians. A lot of bad things have happened with money – like cash for questions and the expenses scandal."
30-year-old Paul McGettigan from West Kilbride had no idea there were even elections on. He said: "Maybe if I'd known about them I might have looked into who I wanted to vote for."
Across the UK the Liberal Democrats and Conservatives lost a number of key councils with the Lib Dems losing their status as the largest party on Edinburgh City Council as leader Jenny Dawe failed to be re-elected in her Meadows/Morningside ward.
This article appeared in issue 12 (May 10 2012) of the Glasgow Journal. Malawi May 2012 was launched on April 30 2012.
Diners-out in Glasgow can do their bit for charity this month as a new partnership aims to raise over £10,000 for education in Africa.
Throughout the month of May every meal booked through Glasgow Restaurant Association's website, Glasgow Dinearound, will contribute money towards Malawian children's education.
The Association's members, together with online restaurant booking and deals website 5pm.co.uk, have pledged their support to Malawi Leaders of Learning.
This collaboration between Glasgow City Council's education services and Malawi's south west educational division – where the city of Blantyre is located – aims to improve education and teaching in the south-east African country.
Despite primary education in Malawi being well-attended, only 35 percent of children progress to secondary education.
Glasgow has been associated with Malawi for a number of years, and many of the city's schools are twinned with Malawian counterparts.
Nearly 50 Glasgow eateries including Ashton Lane's Ubiquitous Chip, Di Maggio's in both the city centre and West Nile Street, and Merchant City's Dhabba are all participating in this year's scheme.
It is hoped the project will raise £12,000 to buy a motorbike and first year's salary for a new project manager to work between schools in the south west region of Malawi.
Chairman of Glasgow Restaurant Association Ryan James said: "It makes perfect sense for Glasgow restaurateurs not to give money to Glasgow, but to a very Glasgow-based charity which is doing such fine work in Malawi."
Maureen McKenna, Executive Director of Education at Glasgow City Council, said: "Our project is about sharing Glasgow's vast experience and knowledge to improve the education of children and young people in Malawi.
"This is not about us providing food or replacing something that they have in Malawi. This is about helping Malawian people to help themselves."
Introduced to Glasgow City Council by Councillor Nina Baker in 2008, the Stalled Spaces programme will have its fourth birthday this autumn. This short film, created in April 2012, looks at one of the city's 'stalled spaces' success stories, Brechin Street's 'Back Garden'.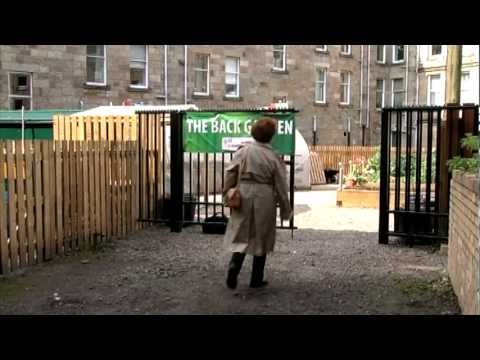 To find out more about the G3 Growers see http://g3growers.blogspot.co.uk/.
This article was published on the Glasgow Journal website on April 18 2012.
Students at Glasgow Caledonian University could soon be the first in the city to face a fee for re-sitting their exams.
Discussions are currently underway to impose a £40 fee per examination re-sit at undergraduate level, which would apply to each exam attempted for the third time or more from September.
The university website also declares an increase in the fee for retaking a 60-credit module from £30 to £300, but Principal Pamela Gillies has claimed this figure is incorrect.
The new £40 re-sit fee would place Glasgow Caledonian second highest in Scotland in terms of fees charged, beaten only by Edinburgh, whose fee is to go up to £80 next academic session.
Glasgow, Strathclyde and West of Scotland universities currently charge no fee, and representatives say there are currently no plans to introduce one next year.
A campaign against the proposed charges was launched by GCU's Students' Association last week.
The Stop the Re-sit Rip-off campaign argues that students likely to find themselves liable for the fees are those least able to pay them, and may feel pressured to drop out of their studies.
The campaign saw over a hundred students pledge their support in only its first 24 hours, and that number has since grown to more than 200.
Fourth year Mechanical Engineering student Omar Aldulemy said: "For international student friends of mine it is very bad because of how much they already have to pay. I do not see why we should pay extra fees."
Kayleigh Adams, a part-time Electrical Power Engineering student added: "Imagine if that happened in your first year. People that fail will just decide to stop."
Alumni Gemma Ross, who graduated from Caledonian's Entertainment and Events Management course in 2009, said she could see both sides though.
"You could say it'll weed out those who aren't serious about uni, but at the same time most students struggle to pay their way as it is," she said.
She said she would support the new policy if it were to free up resources for extra revision classes and drop-in sessions.
GCU Student Officers Matte Andrews and Simon Ward held an open meeting with Professor Gillies today (Wednesday) to discuss the fees.
She said that by charging students for re-sits the university hopes to reduce the number of people waiting until their fourth and last attempt to complete; a trend she said is not healthy.
"It does not give our staff the chance to work out who needs the most support," she said, "And we are well known for our support services.
"What we do not want is for our students just to abuse the re-sit system."
When asked why student representatives had not been made aware of the changes, she maintained that the decision was financial, not academic, and that the proper procedures had been adhered to.
Matte Andrews, Students' Association President, said: "GCU is supposed to be a wide access university which encourages students from the most underprivileged backgrounds to come here.
"This is a complete contradiction of that mission, and we welcome a review of this decision."
While he was pleased to hear Professor Gillies commit to reassess the situation, he admitted he was not entirely satisfied with the meeting's outcome.
NUS President Robin Parker, who also attended, said: "Students should not have to pay to re-sit. Something you should quite rightly take for granted is your right to re-sit your exams."
A final decision on the new fees is expected to be taken at the next meeting of Glasgow Caledonian's executive board in two weeks' time.