Green business is good business", said Energy Secretary Chris Huhne in his speech at last month's Liberal Democrat Party Conference. The coalition government has boasted of being "the greenest government ever" on more than one occasion – indeed, the environment featured highly in David Cameron's priorities as a leadership candidate, and DEFRA lists supporting a green economy as one of its top priorities – yet over the past two months the coalition government has made cuts to its green agenda with alarming rapidity.
First came George Osborne's bombshell that the UK will not reduce its carbon emissions any faster than other European states. Then came the controversial plans for increased speed limits on motorways. Next, the news that a carbon capture project at Longannet power station in Fife had collapsed for financial reasons, while the oil and gas project at Clair Ridge had just been granted £4.5 billion to enter its second development phase.
The Scottish government has had a more consistent green record, but concerns have been raised that if the SNP achieve their goal of independence green energy exports to England and Wales may be under threat.
There was a ray of (green) light at the end of the tunnel this week however. One would expect nothing less of the Rainbow Warrior III.
Greenpeace claims the flagship is its most environmentally–friendly yet. The ship's masts are designed to carry the maximum sail for the Warrior's size, enabling it to use wind as its main source of power. The ship's engines – a back-up for use in uncooperative weather – are sustainable, using excess heat to warm water and cabins. A biological filtering system for recycling 'grey' water and storage space for up to 59 cubic metres of waste water and sewage means no sea-disposal for the Warrior's crew. It even features an environmentally-friendly paint system.
The ship's predecessor, the Rainbow Warrior II, journeyed all over the globe during its lifetime, and the third-generation Warrior will be no exception. It is hoped that her green shipbuilding credentials will inspire the 'greening' of the shipping industry, the emissions from which Greenpeace's Executive Director John Sauven told the Guardian on Thursday are "of increasing concern".
The Rainbow Warrior III made her way across the Thames on Thursday, from West India Dock to the South Bank, on the London leg of her sea trials. Following her official launch from Hamburg last month the ship is to set sail for Stockholm, Marseilles, Genoa and Barcelona before arriving at the Earth Summit in Rio de Janiero. She will end her inaugural voyage in New York.
The Greenpeace website has high praise for the Rainbow Warrior III as "an icon of non-violent direct action and a beacon of hope for millions of people around the world."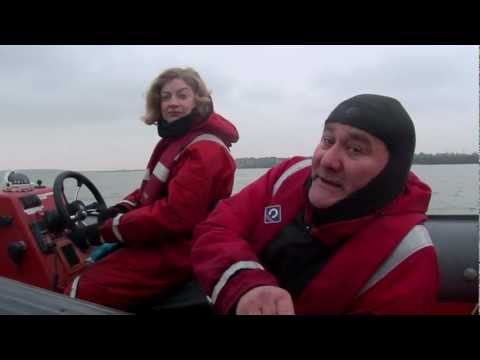 "
The Rainbow Warrior III visits London.